The Facts About Diaper Need
What is Diaper Need?
Diaper need is the lack of a sufficient supply of diapers to keep a baby clean, dry and healthy.
(images from National Diaper Bank Network)
Fast Facts:
• 1 in 3 families struggle with diaper need.
• 5.3 million children under the age of 3 live in poor and low-income families.
• Diapers cannot be obtained with food stamps
• No Government safety-net programs allocate funds for diaper as a basic need.
• Medicad covers over 1/3 of all births in the U.S. each year, though there is no govenment program to cover diaper need
• Diaper need impacts the physical, mental and economic well-being of children and parents.
• Disposable diapers cost $80- $100 per month per baby.
• The poorest 20% of Americans who buy diapers spend nearly 14% of their post tax income on diapers. (Center for Economic and Policy Research, Nov 23, 2015)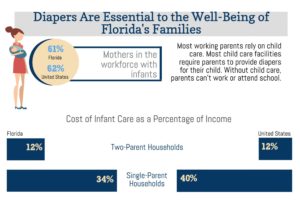 (images from National Diaper Bank Network)
Negative Consequences:
• Exposure to health risks if babies remain too long in a soiled diaper
• Most Childcare centers require parents to provide supply of disposable diapers
• Cloth diapers are not accepted at the vast majority of child care centers
• Without childcare parents are unable to work or attend school outside of the home