Excellence in Education Grants
The Junior League of Panama City partners with The Bay Education Foundation to administer the Excellence in Education grant program. The Excellence in Education grants reward teachers for using creative learning techniques in the classroom, and affords students opportunities that could not be funded otherwise.
Since the program's inception in 2008, over $200,000 has been awarded to the local educators in partnership with the Bay Education Foundation and has impacted thousands of students within the classroom.
We would like to thank all of the teachers who apply for grants through this program. Your commitment to education allows the Junior League to further its mission within our community.
On October 26th, 2021 the Executive Board members attended the Bay District School Board meeting and presented our Junior League check to the Bay Education Foundation for $13,000. An additional $1,500 was provided to the private school personnel, all of which was donated by the Junior League of Panama City.
NEW 2022-2023 EIE Private School Application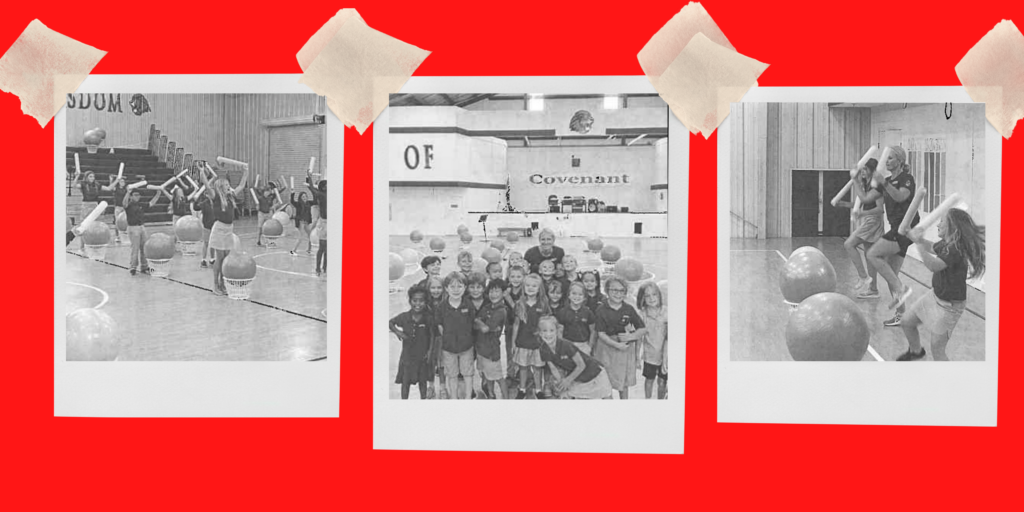 A 2021-2022 Private School Grant recipient from Covenant Christian, Ms. Kelli Thomas, combined lessons on health and music for students with her project, Drumming Up Fun!
2022-2023 Private School Grant Winners
Jeremy Brannon – Sensory Science – Holy Nativity Episcopal School
Heather Dence – Creation Garden – Covenant Christian School
Jillian Preston – Performing Arts Club – St. John's Catholic Academy
2021-2022 Private School Grant Winners
Jan Dykes – Robots on the Move – Holy Nativity Episcopal School
Rebecca Flohre – Mind If I Check You Out? – Holy Nativity Episcopal School
Christina Sabo – Kindergarten Bird Exploration – Covenant Christian
Kelli Thomas – Drumming Up Fun – Covenant Christian
2020-2021 Private School Grant Winners
Jan Dykes, Catherine Churchill, and Lyn Morris from Holy Nativity Episcopal School
2019-2020 Private School Grant Winners
Alice Allen – Finding the "I" in SCIENCE – Holy Nativity Episcopal School

Jan Dykes – Get WISE: Women in Science and Engineering – Holy Nativity Episcopal School

Lyn Morris – Robotic Revolution – Holy Nativity Episcopal School
2017-2018 Private School Grant Winners
Lyn Morris and Lauren Presser – Green with Envy – Holy Nativity Episcopal School
Laura McClain – Making Something Out Of Nothing – St. John The Evangelist Catholic School
2016-2107 Private School Grant Winners
Summer Himes – Garden of Amazing Grace – Holy Nativity Episcopal School
Janet Fiser- Edible Landscape – Holy Nativity Episcopal School
2014-2015 Private School Grant Winners
Andrea Kopp – Leveled Reader Library – St. John The Evangelist Catholic School
Ellen Simpson – The Recipe for Pi – Covenant Christian School
Lynn M. Geren – Lights! Camera! Read! – Holy Nativity Episcopal School
Audra Resler – Don't lose Your Marbles – Holy Nativity Episcopal School
Audra Resler – Reading is for the Birds – Holy Nativity Episcopal School