The Junior League of Panama City, Inc. was organized October 12, 1951, by twenty (20) charter members whose goals were to foster interests in the social, economic, educational, cultural and civic conditions of the community; to promote the interest of it's members in volunteer service to the community; and to work in harmony with the policies of the Association of Junior Leagues. We were formally and legally chartered in April of 1952.
With over 70 years of dedicated service to the greater Panama City area, The Junior League of Panama City boasts over 350 active and sustaining members focused entirely on promoting volunteerism, developing women as community leaders, and improving the Bay County community through effective action and service. We have earned our community's respect as a well-run organization with a "can do" reputation for getting things done with excellence and meeting great needs within our community. The JL's 70 year history of volunteer service is significant and accomplished. It is our tradition to create initiatives and programs that are sustainable and will continue to positively impact the community for years to come. To name just a few, we have clothed thousands of underserved children through our Happy Hanger and Child Service Center programs.
We have visited and enriched the Elderly through our Calls from the Heart, Adopt a Grandparent, and Elderly Outreach
programs. We have played pivotal roles in partnerships with the Junior Museum, Bay County Teen Court, and the YMCA. We helped with the refurbishing of McKenzie Park and the restoration of the historic McKenzie House. We helped start the Art Dimensions program in Bay District Schools, and since 2008, in partnership with Bay Education Foundation, have awarded over $200,000 in Excellence in Education Grants to public and private educators for exceptional innovation in the classroom. For over 16 years, our puppet troupe, Kids on the Block has toured local elementary schools helping over 500 students annually address life issues such as bullying, water safety, nutrition and personal hygiene. Since 1995, our ASAP program has tutored, mentored and loved some of the neediest and most deserving students in the city. For over a decade, in partnership with Girls on the Run International (GOTR), we have sponsored GOTR in Bay County, promoting healthy lifestyles and self-esteem. And finally, through the years, we have fundraised millions of dollars to directly support our varied efforts through a myriad of ways and events, such as Thrift Shops, Whale of a Sale, Charity Balls, sales of 3 wonderful cookbooks, JLPC 5K Race Series and our Holiday Shopping Extravaganza, Holly Fair! Amazingly, over the last 33 years of Holly Fair alone, we have raised nearly $4,000,000 that has gone back into our community!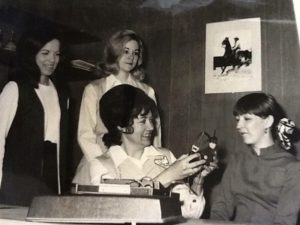 Through the last 70 years, our membership has changed as women's lives have changed. And our organization has changed to remain relevant to women and the community they serve. Currently, approximately 80 percent of our members work outside the home and still choose to spend time volunteering to improve their community! Today's League members are dedicated, professional and well-educated women who give generously of their time, talent and treasures. They have varying interests and backgrounds and are artists, teachers, engineers, medical professionals, attorneys, bankers, sales and marketing professionals, stay-at-home moms, accountants, communications professionals, counselors, business owners and government officials. But the common thread that continually binds us together, and has since our inception, is our commitment to the community and to becoming trained volunteers. Throughout our history, the JLPC has offered its members organized community service, leadership development, and a chance to meet like-minded women interested in volunteerism. Today, all of our members are the keepers of this legacy, the carrier of its torch. With good reason, we take pride in our history, our mission and our accomplishments. And we renew our commitment to being relevant for another 70 years.