Each year, the incoming class of prospective Junior League members is required to complete a basic training course designed to develop potential for participation in community affairs, provide education on the needs of our local community and foster volunteer interests. During this training period, each provisional member is exposed to key Junior League placements, fundraising events and outreach activities. As a group, each incoming class is tasked with planning, developing and implementing a community service project of their choice. This project is an exercise in the development of leadership skills and volunteer characteristics and cultivates interest in the social, economic, educational, cultural and civic conditions of our local community. Once the introductory course is successfully completed, provisional members are moved into active membership status in the Junior League of Panama City.
New Member Projects Throughout the Years: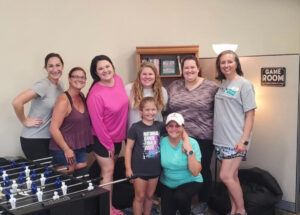 2022-2023: New members coordinated a room makeover for the young adults at Northwest Florida Health.
2021-2022: The New Member Class hosted the Mental Health Awareness Event at ASAP.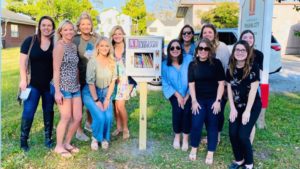 2020-2021: Our new members installed free book libraries around Bay County including one in front of the Junior League of Panama City office.
2019-2020: New members painted inspirational quotes at Waller Elementary.

2018-2019: The fall class brought cheer to the Gulf Coast Children's Advocacy Center (GCAC) by painting pavers and planting trees in front of their building as well as delivering goodies, notes of a appreciation to staff, and a $500 donation to the GCAC.
2017-2018: Members of the New Member class commissioned the JLPC Wings mural on our building at 736 Jenks Ave. The adjacent wall features the inspirational quote, "The future belongs to those who believe in the beauty of their dreams," attributed to Eleanor Roosevelt.
2015-2016: New Members hosted Valentine's Day party Social events at Mathison Retirement Community and Clifford Chester Sims State Veterans Nursing Home.
2014-2015: The Fall 2014 new member class renovated the outdoor space at Girls, Inc. by adding two tons of rock to allow water to drain from a problem area, and then they beautified the remaining space by painting bright colors in creative patterns on the picnic tables that the girls used for projects.  Additionally they re-did a portion of the retaining wall along the walkway.  The Spring 2015 new member class partnered with a fairly new chapter to our area, Special Spaces, to provide a "dream room" for a local

child with a terminal or significant health condition.  They started bright and early with prep and painting with members and community volunteers, and commenced that day to unveil the 'Frozen' themed room to the family of a 5-year old little girl with a rare genetic disorder.
2013-2014:  The fall class renovated the waiting area at Children's Home Society and provided a reception for the Wounded Warriors.
2012-2013:  Class projects included hosting the very successful Open House Reception for the Spring Class (Fall), and the presentation of "Project Toothbrush" – a hands on demonstration of the benefits and how-tos of good dental hygiene to approximately 200 youths at the Boys and Girls Club (Spring).
2011-2012: The class project this year benefited Hannah's House, a local non-profit organization which helps young pregnant girls become mothers. They organized family dinners with the girls 35 and staff, an item drive to collect much needed supplies and did beautification projects to the home.
2010-2011: Much needed renovations and gathering of vital supplies for the AWARE program, a chemical addiction recovery home; and assistance with the JL 5K in April 2011.
2009-2010: The Bacot Academy for Autism- Support through donations of much needed items to grow the success of the program, Second Chance of Northwest Florida- Support through the creation of a library to enhance the client experience and Grand Opening & Ribbon Cutting for the new League Office, April 13, 2010.
2008-2009: Provided much needed supplies and funding to support the Rescue Mission's Bethel Village.
2007-2008: Provided Backpacks to Early Education & Care, AED Placement to benefit John Wesley Foster Foundation, Oakland Cemetery Dedication.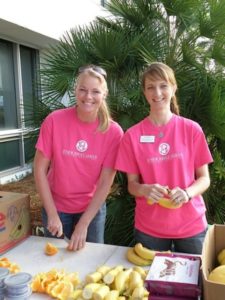 2006-2007: Outdoor Beautification of the Chautauqua House.
2005-2006: Renovation and Decorating of Children's Home Society Foster Home.
2004-2005: Renovation of St. Andrew's Bay Center.
2003-2004: Painting of "Under Sea" wall at Gulf Coast Hospital & Bay Medical.
2002-2003: Promotional Campaign to support the launch of Bay Fetes Cookbook.
2001-2002: Book Drive to benefit Guardian Ad Litem program.
2000-2001: Adoption of the Retirement Center.