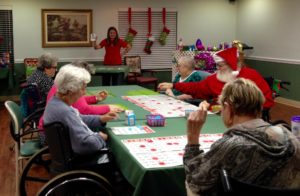 Designed to enrich the lives of the more mature and wiser members of our community, Elderly Outreach interacts with residents through visits that include games, crafts and special events throughout the year. Through this placement the Junior League provides an outreach to enhance the lives of the elderly living with illness and limitations, especially those who have little to no contact with family or friends outside of their nursing facility.
League members also provide robes, slippers, hygiene items and other necessities on request to elderly centers around Bay County.
The overwhelming favorite activity of these residents is playing B-I-N-G-O. They also enjoy crafts such as decorating holiday shirts, and making their own jewelry.
Home Depot recently donated wooden art projects for seniors for the Elderly Outreach program. "The seniors in Bay County have had a difficult time since the start of COVID," said Elderly Outreach Chair Heather Taylor. "They have not been able to see their loved ones in person and many of their extracurricular activities have been suspended. We were blessed to have Home Deport donate these wooden projects for them!"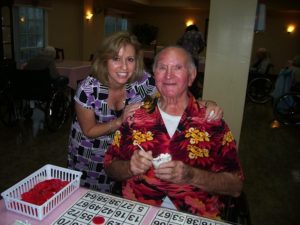 Local resident, Paul says, "It makes me feel good that these ladies take time out of their busy schedule to visit with us. It makes me feel special and appreciated. We all look forward to their visits."