Girls on the Run of Bay County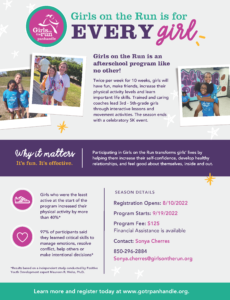 Girls on the Run provides BIG opportunities for girls in Bay County
Girls on the Run Bay County and Girls on the Run Panhandle merger to provide
increased access to the life-changing, girl empowerment program
For more information about Girls on the Run Panhandle and Girls on the Run Bay County, visit www.gotrpanhandle.org or contact Girls on the Run Panhandle Council Director Jennifer Powell at 850-933-6033 or jennifer.powell@girlsontherun.org.
 # # #
GOTR is a 501(c)3 non-profit organization dedicated to creating a world where every girl knows and activates her limitless potential and is free to boldly pursue her dreams. With programming available in over 12,000 locations across the nation, Girls on the Run is committed to ensuring that all girls have access to our life-changing programs. Fun and inclusive lessons meet the unique needs of each girl, no matter her circumstances, ability or background.
The 3rd – 5th grade program includes research-based curriculum that helps girls understand themselves, value relationships and teamwork and recognize how they can shape the world at large. The 6th-8th grade program helps girls learn more about themselves, become independent and critical thinkers, develop skills to write their own stories and find inner strength through physical activity.