Girls on the Run of Bay County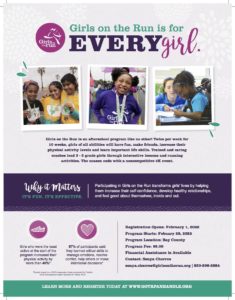 Girls on the Run provides BIG opportunities for girls in Bay County
Girls on the Run Bay County and Girls on the Run Panhandle merger to provide
increased access to the life-changing, girl empowerment program
PANAMA CITY, Fla. – Through a merger with Girls of the Run (GOTR) Panhandle, GOTR Bay County is now able to make BIG opportunities for girls in Bay County. This year, GOTR Panhandle will offer both the Girls on the Run and Heart and the Sole programs in Bay County for the upcoming spring 2021 season. The spring session will begin February 8, 2021, with a celebratory 5K concluding the season on April 10, 2021.
"We are better together, and that is what merging Girls on the Run Bay County and Girls on the Run of the Big Bend has done," Colleen McMahon, Girls on the Run Panhandle program coordinator said. "We now have the incredible opportunity to provide more access to this life-changing program to more girls than ever before and we could not be more excited!"
Bay County schools can register their site for the spring 2021 season at www.gotrpanhandle.org/Register-Now. Site registration closes on January 22, 2021. After completing the site registration, coach applications can be completed at www.gotrpanhandle.org/coach. Coach registration closes on January 25, 2021. Coach training will take place at 4:30 p.m. CST January 28, 2021, at the Junior League of Panama City, 736 Jenks Ave, Panama City, FL 32401.
Girls on the Run is a life-changing program for 8- to 13-year-old girls that promotes girl empowerment by teaching life skills through lessons and running.
GOTR Bay County has been managed by the Junior League of Panama City (JLPC) since 2008. The merger transfers management of the GOTR Bay County program to GOTR Panhandle. The Junior League of Panama City will continue to assist the program through volunteer support for the 5K races.
"The Junior League of Panama City believes strongly in this mentorship program and is committed to helping this merger succeed," JLPC President Lauren Presser said. "We want ensure girls across Bay County can continue to benefit from this life-changing program."
For more information about Girls on the Run Panhandle and Girls on the Run Bay County, visit www.gotrpanhandle.org or contact Girls on the Run Panhandle Council Director Jennifer Powell at 850-933-6033 or jennifer.powell@girlsontherun.org.
 # # #
 GOTR is a 501(c)3 non-profit organization dedicated to creating a world where every girl knows and activates her limitless potential and is free to boldly pursue her dreams. With programming available in over 12,000 locations across the nation, Girls on the Run is committed to ensuring that all girls have access to our life-changing programs. Fun and inclusive lessons meet the unique needs of each girl, no matter her circumstances, ability or background.
The 3rd – 5th grade program includes research-based curriculum that helps girls understand themselves, value relationships and teamwork and recognize how they can shape the world at large. The 6th-8th grade program helps girls learn more about themselves, become independent and critical thinkers, develop skills to write their own stories and find inner strength through physical activity.
Founded in 1951, the Junior League of Panama City is committed to promoting voluntarism, developing the potential of women and improving communities through the effective action and leadership of trained volunteers. The Junior League of Panama City is a volunteer organization for women interested in making an impact in their community.
The Junior League of Panama City is a member of The Association of Junior Leagues International, an organization of transformational female leaders who set bold goals, open their circles, disrupt convention and change the conversation for the betterment of civil society. Today, there are Leagues across the United States, Canada, Mexico and the United Kingdom.