Presidential Service Awards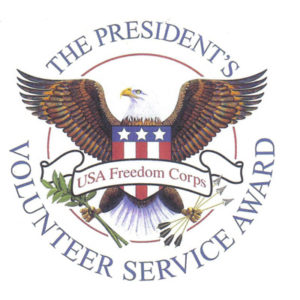 America has a long and proud tradition of volunteer service. Now more than ever, volunteers are renewing their commitment to helping others and making new connections that bring us closer together as families, as neighbors, as communities, and as a Nation.The Junior League of Panama City is honored to have been chosen to grant The President's Volunteer Service Award to deserving individuals or groups in our community.
The President's Council on Service and Civic Participation (the Council) was established in 2003 to recognize the valuable contributions volunteers are making in our communities and encourage more people to serve. The Council created the President's Volunteer Service Award program as a way to thank and honor Americans who, by their demonstrated commitment and example, inspire others to engage in volunteer service.
Recognizing and honoring volunteers sets a standard for service, encourages a sustained commitment to civic participation, and inspires others to make service a central part of their lives. The President's Volunteer Service Award recognizes individuals, families, and groups that have achieved a certain standard – measured by the number of hours of service over a 12-month period or cumulative hours earned over the course of a lifetime.
To date, the President's Council has partnered with more than 80 Leadership Organizations and more than 28,000 Certifying Organizations, including the Junior League of Panama City, to bestow more than 1.5 million awards to the Nation's deserving volunteers.
The Junior League of Panama City will begin the planning and research to bring our vision for the application and presentation of these deserving awards. Please check back for our progress.