State Public Affairs Committee (SPAC)

The Junior League of Panama City is a member of the State Public Affairs Committee (SPAC) of the Junior Leagues of Florida. We are a non-partisan education and advocacy organization that represents 22 Leagues and more than 11,000 women from across the state. Together, we have monitored legislation and advocated for issues of importance to our members for almost 45 years to help improve the lives for Florida women, children, and families.
Each Florida Junior League that chooses to participate in the advocacy process sends delegates to state meetings and conferences throughout the year to research and debate the issues of the day, and then:
Advocate for specific legislation at the state and national levels that is relevant to our key issue areas
Educate our member Leagues about advocacy and public policy
Coordinate the exchange of information from community-based League projects to policymakers
Over the years, we have weighed in on various topics, including child safety seats (booster seats), bicycle helmets for children under 16, the Environmental Growth Management Act of 1995, the '911' Emergency Medical System, child abuse, domestic violence, juvenile justice, education, healthy foods and human trafficking.
Learn more about the Junior League of Florida State Public Affairs Committee (JLFL-SPAC) Legislative Priorities or for more information about JLFL-SPAC, visit jlflspac.org.
Member Leagues:
State Public Affairs Committee Issues:
Nutrition, physical activity and education regarding healthy choices for children
Increased access to affordable, wholesome foods; including food deserts
Financing provisions to entrepreneurs who want to open a fresh food outlet within a food desert
Prohibiting minors from using tanning beds to promote skin cancer prevention
Infant welfare related to substance dependent newborns and substance-induced negligent acts resulting in infant death
Increased life skills for children in foster care and other at-risk youth
Nutrition for school readiness gains
GMO required labeling
Raising awareness of domestic violence signs
Human trafficking awareness campaigns
Improved pedestrian safety
Temporary Assistance for Needy Families or welfare (TANF) coverage for diapers
Support for children aging out of foster care
Maintain quality residential group homes
Literacy skills
Increase public speaking skills for school-age girls
Later school start times
The SPAC committee held a Peanut Butter and Jelly Drive in the Fall of 2021 to restock the food pantry at local church food banks. Bridging the hunger gap in our local community is a current priority issue for the LY 2021-2022. 
---
The SPAC Committee met virtually with Senator Gainer on March 30, 2021, and Rep. Jay Trumbull  on March 31, 2021, to discuss SB 806: Tax Exemption for Diapers and Incontinence Products sponsored by Senator Lauren Book and SB 1372: Literacy Improvement sponsored by Senator Danny Burgess.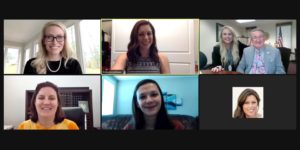 Meeting with Seantor Gainer: PAC-State Public Affairs Committee Member Alicia Carothers, President-Elect Lindsey Mathews, legislative assistant Andrew Grainey and Seantor George Gainer, Christy Rogers, President Elect-Elect Sara Walker, and Jennie Frey.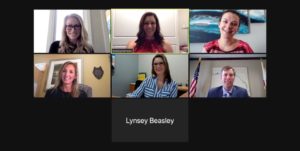 Meeting with Rep. Jay Trumbell: SPAC-State Public Affairs Committee Member Alicia Carothers, President-Elect Lindsey Mathews, President Elect-Elect Sara Walker, SPAC-State Public Affairs Committee Member Nikki Childree, VP of Membership Lorrie Buschmeyer, and Rep. Jay Trumbell. Not pictured, but present, Lynsey Beasley.